6 Golden tips to get more leads for your business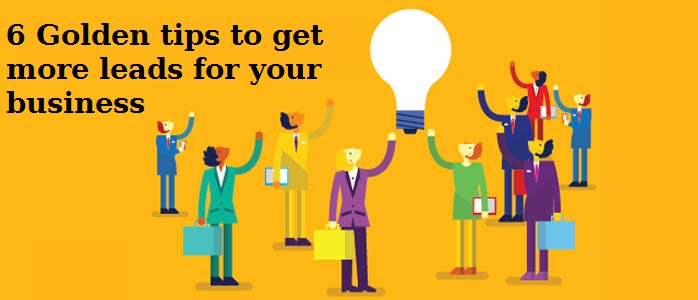 What is the secret of a successful and flourishing business? Any outright and straight forward answer may not be the solution for all types of business. But one success strategy that is common for all types of business is to get leads and convert them to realize the potential growth. 
Leads through word of mouth referrals are definitely a good starting point but it has its own limitations and only a restricted growth can be achieved. How about generating leads through online world? Nocture solutions, the leading web designer with strong expertise in digital marketing, Aurangabad, presents the 6 golden tips to get more leads for your business through online presence.
In today's competitive world, it is imperative to create opportunities rather than to wait for it. Hence, as a proactive move, having a dedicated website with rich features such as accurate information of the product or service, contact information, platform for feedbacks and reviews, promotions and offers are vital. This enables the customers to reach out for you rather than the other way round. And what more, your website works 24X7 tirelessly and grabs the leads for you to proceed further.
With revolutionary growth of mobile technology and with more online searches through hand held devices than desktop counterparts, it is definitely a smarter move to have a mobile app. Leads can be generated through mobile apps by offering exclusive offers, promotional activities, referrals and interactive chats. And believe us, it does not cost a fortune to have a mobile app to get linked with your business growth.
Social media platforms provide the most enchanting source for leads that have great potential. Platforms like Facebook, Twitter, instagram, pinterest, Google+, and LinkedIn can be very effectively used for generating leads. But as a word of caution, it is not an overnight process. It requires sincere efforts to be in touch with relevant topics, converse with people, engage them with promotional details, and convert them to leads. But the end result is nothing but explosive – leads, leads and more leads. It is never and ever too late to enter social media to drive traffic towards your website. The trick lies in usage of proper strategies among the social media contacts to capture the leads.
Search Engine Optimization
It can be true that your products or services offered are genuine and on par with the best quality and your website depicts all the fantastic features of them. But how to attract the customers' eyeballs and grab their attention towards your website? With large chunk of leads being generated through search engines, the best bet to grab the leads would be to appear in the first page of search engine. This is where the digital marketing expertise comes into play for search engine optimization (SEO). Proper key word selections, genuine and relevant contents, continuous site updations through blogs are some of the key techniques deployed by the SEO experts for organic growth. 
The golden rule of the business world is not to leave a stone unturned to convert your leads to prospective business transaction. But, what if the situation arises, in which the data pertaining to leads can't be properly handled? No doubt, it is bound to cut a sorry figure in the near future. A lost lead is definitely a gain for your competitor. The only way out is to have a proper web application for enquiry management system that collects the relevant data from all the enquiries and presents it to you. No second thoughts, this is definitely an effective solution and provides relief from maintaining all the leads.
It is true that there definitely exists a relationship between search engine rankings and leads. But, organic growth is not the only solution to have a good search engine ranking. It is definitely possible to appear in the top pages of search engine through other avenues such as 
Google business listings
 and 
paid advertisements
. The former is absolutely free and provides platform for listing and direct interaction with customers and paves way for more leads generation. Paid advertisements through 
Google Adwords
 is also usually adopted by digital marketing professionals for instant results. 
The online world is open to everybody and hence the race is quite tough. Out of the box thinking, effective strategies, smart moves are keys to taste success in the online marketing. Hence it makes sense to avail the services of expert digital marketing professionals to handle all the matters associated leads generation. Nocture solutions, the leading provider of SEO services in Aurangabad, has rendered its services for numerous firms and brought appreciable change in their clientele base.